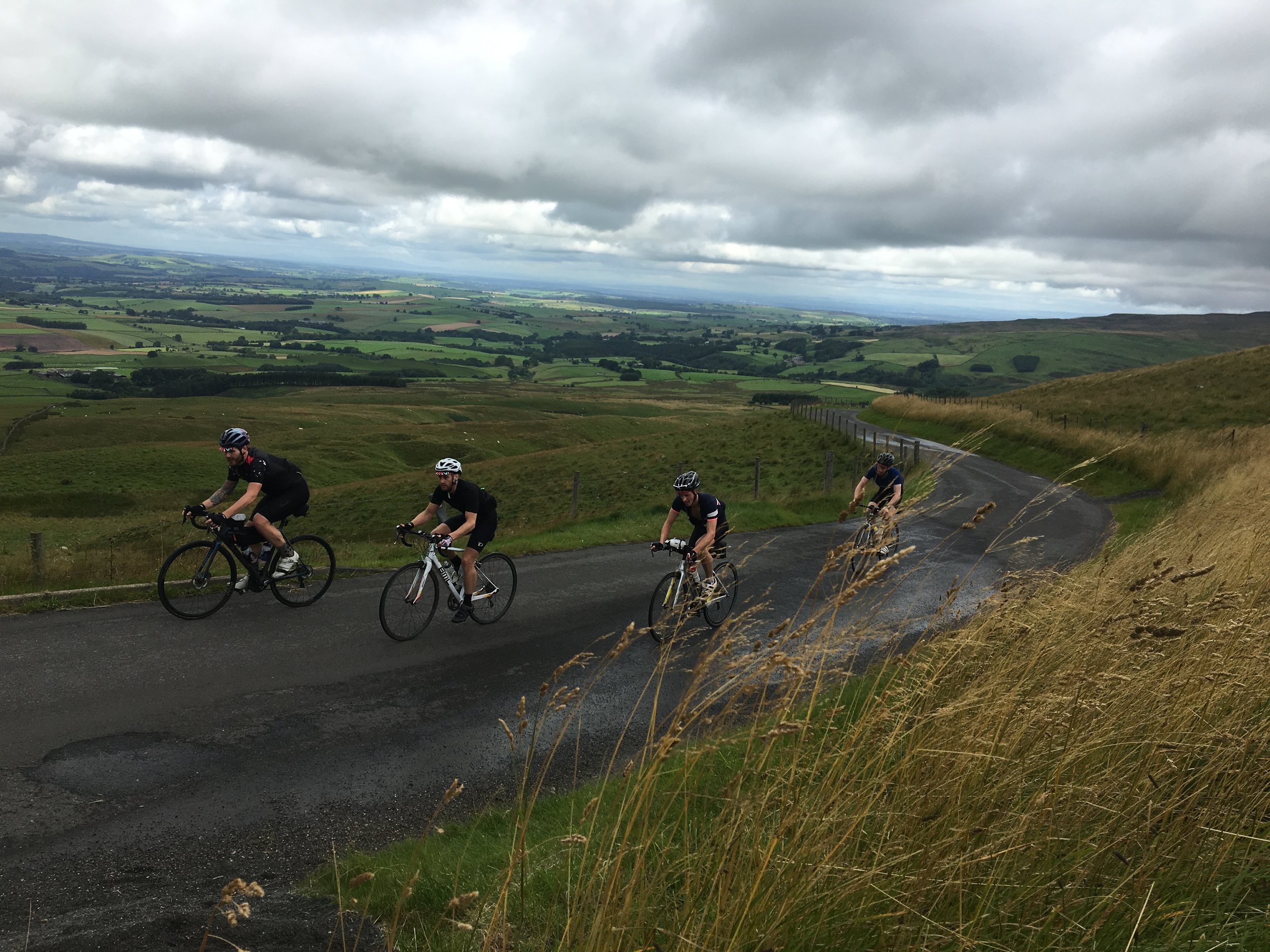 A growing collection of club-endorsed rides, this mixture of training and event rides are all available to save to Strava or download as .gpx files, so you can adapt and amend as you please.
We also highlight our tried and tested rest stops; a chance for you to stop, reflect and refuel.
Get out. Explore new roads.
< 1 Day
SHOREHAM LOOP
Get out over the M25 inside of half an hour and take in the small villages of Kent, complete with idyllic pubs, streams and small, granite bridges.
Difficulty: 5/10
Destinations: Blackheath - Mottingham - Eynsford - Kemsing - Shoreham - Mottingham - Blackheath
Stop: Get a table outside at Eynsford's The Plough Inn.
RTW Return
A half-day jaunt to the historic city of Royal Tunbridge Wells. Set out early to avoid the traffic and enjoy the sun coming up as you traverse the ups and downs in and out of Sevenoaks. Stop half-way for a spot of breakfast at one of our favourite rest stops before taking on some seriously challenging hills, including the aptly named 'Brasted'.
Difficulty: 7/10
Destinations: New Cross - Sevenoaks - Royal Tunbridge Wells - Ide Hill - Bromley - New Cross
Stop: Royal Tunbridge Wells The Velo House is the only place you need to stop on this ride. Refuel, check out the kit and grab a couple of ride snacks for the road.
A REAL LAKELAND ADVENTURE
Enjoy the rigours of a proper day out in The Lakes, taking in 2 off the toughest climbs in Britain, including the aptly named 'The Struggle'. Beautiful scenery will surround you all day and don't be fooled by the 100km distance. 2,300m of savagely steep climbing will make it feel like you've been out all day.
Difficulty: 9/10
Destinations: Newby Bridge - Ulpha - Eskdale - Little Langdale - Ambleside - Bowness - Newby Bridge
Stop: Often to admire the views. A swift half at the King George IV Pub in Eskdale Green just before Hardknott and its famous 30%+ gradient sign wouldn't be a bad idea, either.
1 DAY
LDN-BTN-LDN
One for the long days of summer, this takes you out of London and down to the seaside. Refuel after Ditching Beacon with some fish and chips before heading back via Ashdown Forest and Royal Tunbridge Wells.
Difficulty: 8/10
Destinations: London - Godstone - Ditchling - Brighton - Ashdown Forrest - Royal Tunbridge Wells - London
Stop: Small Batch Coffee Roasters, Brighton for cake and coffee doping.
The Velo House, Royal Tunbridge Wells for ride-specific refuelling, more coffee and a possible beer.
> 1 Day
LDN-esl-bth
A comfortable two-dayer or an ambitious and hill-filled one-dayer, you're taken south-west from London through Dorking and the South Downs, and on towards Southampton. A stop over in Eastleigh after 150km will provide some much-needed rest and shuteye to tackle the hills of day two, which come thicker, faster and steeper as you work your way through Salisbury, Warminster and on to Somerset.
Difficulty: 8/10
Destinations: London - Dorking - South Downs - Eastleigh - Salisbury - Warminster - Bath
Stop: Ellington Lodge, Eastleigh will safely store bikes overnight as well as feed you coffee, cake and dinner. You can also order takeaway to your room.
The Swan, Stoford opens its doors relatively early and serves much-needed breakfast rolls at around 60km in to day two.
Society Cafe, Bath is the only place to finish. Their spot in Kinsmead Square has outdoor seating, their coffee is delicious and their food offering expansive.
THE COAL ROAD CHALLENGE
Depending on where you're based, this route could take you less than a day, but it's possible to jump a train out of London, ride the road that once connected the mines above Dentdale and pedal up some of the areas cruelest climbs and be back in time for dinner.
Difficulty: 8.5/10
Destinations: Caton - Hawes - Caton
Stop: To admire the unbelievable views (and to catch your breath at the top of two tough climbs, including Top 100-ranked Garsdale)
COAST TO COAST+
A variation on the traditional 225km route, this coast to coast route snakes its way through Northern England to take in more kilometres and more elevation, plus three national parks and one Area of Outstanding Natural Beauty.
Beginning at Lancaster train station, the route heads north and into the beginnings of the Lake District providing a suitable leg loosener and taste of things to come.
Day two moves through the Lake District to take in some of the toughest and terrific ups and downs the UK has to offer (including the aptly named The Struggle and a long, smooth and open 20km downhill descent).
The final day has its eyes fixed firmly on the coast and makes a relatively straight line (albeit one filled with hidden climbs) through the Yorkshire Dales and North York Moors for the west coast and the final destination: Scarborough.
Difficulty: 9/10
Destinations: Lancaster - Milnthorpe - Blawith - Penrith - Kirkby Stephen - Yorkshire Dales - Northallerton - Scarborough
Stop: As you pass through The Lakes on day two, be sure to recover from The Struggle at Helvellyn Country Kitchen and again at Hartside Top Cafe, the highest cafe in England.
Fletcher House is a wonderfully welcoming spot to rest your head and lock up your bike while mentally and physically preparing for the final leg of your journey.
80km into day three sees you arrive into Northallerton, a small town between The Dales and The Moors. If you're lucky enough to be passing through Monday to Saturday, a myriad of local bakeries and cafes await. Sunday's offer a reduced choice, but there are still plenty of options on the high street.
View Day One Route // View Day Two Route // View Day Three Route
TOUR DE PAYS DE GALLES
Three days that take you from the top of Wales to the bottom. Starting in Chester you wind your way through two national parks and in and out from the coast, taking in five Top 100 climbs in the process. Over the course of the trip, expect roads as diverse as the emotions that will ensue -- there will be ups, downs, lumps, bumps and a few surprises to test your patience and resolve. Just know that you will always be rewarded.
If we were to offer one piece of advice, it would be to pack for all conditions. You're probably going to get a little bit of everything. If we were to offer two, it'd be to pack snacks. Lots of snacks. Read more about our ride here.
Difficulty: 9/10
Destinations: Chester - Corwen - Aberystwyth - Aberaeron - Llandeilo - Glyn-Netah - Cardiff.
Stop: On Day One, Glyndwr Plants will see you get a good breakfast that sees you through to a lunch stop at Artisans on Lake Vrynwy. We spent the night at Park Lodge where both we and our bikes were well looked after.
Day Two's first stop is right on the shore of Cardigan Bay. The Patio Cafe make their own ice cream and bake their own cakes on-site, so it'd be rude not to. After that, things get a little rural until you reach Llandeilo. If you see somewhere suitable, seize your chance. Overnight, feed and rest up at The White Hart Inn, who even made us a packed lunch for the following day.
Day Three's second rest stop will make your spirit sore. Following an incredible, Alpine-esque (depending on the day) descent, roll into Treorchy's High Street Social and enjoy a well-made cup of coffee and Welsh Rarebit (poached egg optional).
View Day One Route // View Day Two Route // View Day Three Route
We want your routes.
No matter where in the world you ride, if you've traversed a new route that warrants sharing or have a favourite loop you'd like others to discover, then contact us: